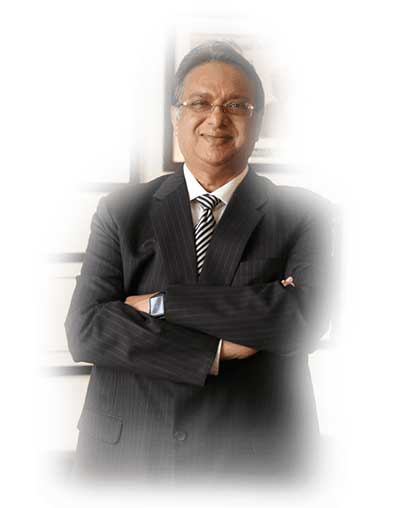 Happiness is the foundation on which great lives are built and a happy learning environment creates a lifelong impact on students.
Dr Sahoo's endeavour has always been to ensure that all the stakeholders of SAI International are happy. When he conceived the idea to start SAI International School, his sole focus was on creating a globally-benchmarked School where each and every child is happy and where learning takes place in a joyful environment. Education is the foundation on which the progress of a nation depends. It is a human right that creates profound implications on social, economic and personal development. He understood that knowledge acquisition is very important, but it is also equally vital to build character and personality. This is what SAI International follows – Holistic Parenting. The word parenting is used here as each one here, the teachers, staff and the students feel a part of one big family. He believed that strong relationships are the key to a happy life.
Dr Sahoo's approach towards teaching-learning at SAI International was completely student-centric which is radically different from the teacher-centric approach. He made sure that we teach the importance of mindfulness to students, by helping them to inculcate the habit of paying close attention to the present moment or putting the complete focus on whatever they are doing, through closely-monitored hands-on activities.
Connect the children to the age-old values, which is the pride of our nation equipping them with the 21st-century skills to help them align their competencies and thought processes with the fast-changing global scenario. Children at SAI will learn to strengthen competencies, be creative and intuitive, become aspirational, develop commitments and values, and most importantly, imbibe positive thinking.
He focused that it is crucial for children to feel happy about themselves for positive development and spread the aura of positivity all around. Happiness encourages a growth mindset. Children can only be happy if they are aware of their strengths. SAI International celebrates the inherent talent of each individual child by providing opportunities through diversified events and celebrations, introducing them to a broad range of subjects. All achievements, however big or small, fill them with self-esteem and develop a respect for the self. A happy child hones the capability to cope with failures and not let success rule the head.
In his pursuit of building a happy nation, his work 'SAI International', got recognised by the Indian Institute of Management Calcutta (IIMC). IIMC published a case study on the life of our Founder-Chairman and the journey of SAI International. The case, namely, "SAI International School: In Pursuit of Academic Happiness", will be taught to all management students who attend the MBA program at the prestigious institution. One of Asia's finest management institution, IIM Calcutta, has included this case within their core curriculum of management to teach the country's finest leaders the concept of SAI, the art of entrepreneurship, and education management.
To strengthen the Education sector of the State, the Government of Odisha had bestowed Dr Sahoo with an opportunity to serve the 314 blocks across Odisha and set up quality English Medium CBSE Schools in the year 2019. This mammoth responsibility required a lot of effort and sacrifice. His aim was to work towards the betterment of the State and bring the Odisha Adarsha Vidyalayas (OAVs) at par with private schools.
His vision of making India better through education is engraved in each brick of the school and his voice still resounds in each stakeholders ear to spread 'happiness' and 'positivity' to create a profound impact on the well-being of the students.